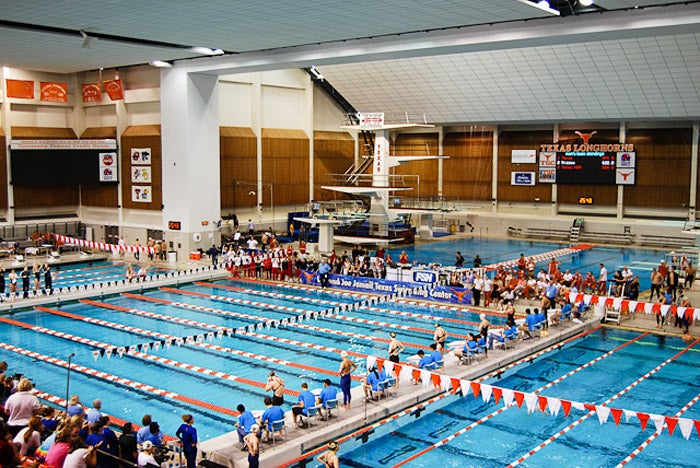 Named in 1993 for benefactors Lee and Joe Jamail, the Texas Swimming Center provides The University of Texas at Austin with one of the world's finest facilities for all known events in competitive swimming, diving and water polo. It is modeled after the pool used in the 1972 Olympic Games in Munich.
Completed in 1977, the center includes a competition pool with a separate diving area. The diving well is known as the Skippy Browning Diving Facility in honor of David G. (Skippy) Browning, a 1953 graduate of the university who won eight Amateur Athletic Union (AAU) national diving titles, four National Collegiate Athletics Association (NCAA) national championships, and the 1952 springboard Olympic gold medal. The center's Alderson Conference Room, is named in honor of Dr. Curtis J. (Shorty) Alderson, who introduced the sport of swimming to the Southwest Conference in 1931. He served as the university's swimming coach for three years, winning three Southwest Conference titles.
The center provides permanent armchair seating for 1,800 spectators and about 1,100 portable folding bleacher-type seats are available on deck for additional spectators. The facility serves the needs of intercollegiate practices and competitions, as well as kinesiology and health education classes, recreational sports programs and events, and community programs, camps and special events.
Read more about our facilities.
Lee and Joe Jamail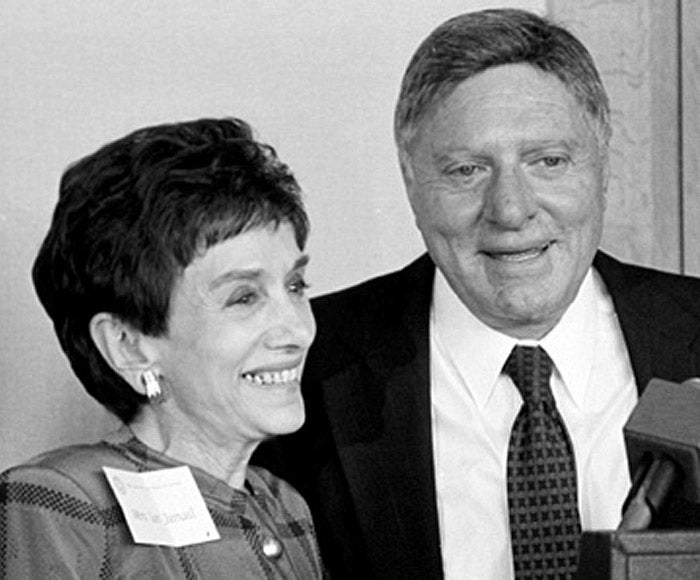 Philanthropists Lee and Joe Jamail, both university alumni, were generous to the university. The Houston couple is a major benefactor of the university's School of Law, having created numerous endowed chairs, an endowed library, an excellence fund and an endowed dean's fund. Their generosity has also funded endowed scholarships in business, education, fine arts, nursing and women's athletics. Most notably, in 1997, the couple pledged $5 million to the Longhorn Legacy to increase endowed funds for UT Athletics and to renovate and expand the Darrell K Royal-Texas Memorial Stadium and other university sports facilities.
Joe Jamail was one of the country's leading trial lawyers. In a landmark 1983 case (Pennzoil vs. Texaco), he represented a client who received the largest jury verdict in history. He is a recipient of the university's Distinguished Alumnus Award and the Law School's Outstanding Alumnus Award.
Lee Hage Jamail was considered one of the state's foremost supporters of education, health care and the arts. She studied speech pathology in graduate school at the university in the 1940s and in 1952 began working in the Austin school district with children suffering from speech and hearing problems. She was instrumental in the creation of the Jesse J. Villareal Centennial Fellowship in Speech Communications at the university. In 1998, she received a Distinguished Alumni Award from the university.